uansett hvor lite man har, så deler man
chai er en livsnødvendighet
banana lassi er det beste som finnes
vindaloo er altfor sterkt
alltid spis med høyre hånd
tolv timer på buss/tog er en kort tur
å kjøre rickshaw er ikke så vanskelig som man tror
ikke klag over trafikkork og kø, det kan aldri bli verre enn i India
tuting er påbudt
å sove gjennom bråk og støy er opptrenbart
løshunder er aggressive
løping i gatene er livsfarlig (ref. hundene)
aper stjeler
kyr er uberegnelige
kameler er kule
prisen kan alltid bli lavere
ikke puss tennene med springvann
man blir dårlig i magen
squattedo er bedre enn vanlig do
avslå aldri en invitasjon (men bruk hodet og følg magefølelsen)
vær åpen for nye ting
stress og irritasjon er bortkastet energi
hodevrikking er smittsomt
køkultur er inteteksisterende
forvent å bli tafset på
glaning er en selvfølgelighet
uten spisse albuer, oppnår man ingenting
det er ingenting som heter intimsone
ikke undervurder viktigheten av god karma
å kle seg som de lokale gjør livet lettere
en sari er seks meter lang
turban er tøft
indiske menn er som småbarn
indiske menn leier hender
indiske menn har det morsommere enn indiske kvinner
indiske kvinner er hardtarbeidende og undertrykte
all tiggervirksomhet er organisert
en krakk er ikke nødvendigvis en krakk
alle er i alles lommer
slumbeboerne har parabolantenner
tak over hodet er ikke alle forunt
hennafarge sitter lenger enn du tror
holifarge sitter akkurat like lenge som du fryktet
søppelbøtter finnes ikke
man kan bli immun mot lukt (og det meste annet)
ting andre gjør privat, gjør inderne i full offentlighet
spytting og snørring er helt naturlig
innavl er en stor del av årsaken til det høye antallet misdannelser
jentebarn er uønsket fordi de er dyre å gifte bort og flytter hjemmefra
arrangerte ekteskap fungerer på et vis
en rotte som løper over foten din betyr lykke
jeg er velsignet, på alle mulige måter
du trenger ikke stoppe for trafikkpolitiet så lenge du vet hvor gassen sitter
politiet er korrupt
kastesystemet er på ingen måte avskaffet:
Jeg fortalte tidligere om et overklassebryllup jeg snublet over i Jaipur. Der kom jeg i prat med en liten jente, som snakket perfekt engelsk. Hun var pen i tøyet, veltalende og nesten ubehagelig høflig. Hennes spørsmålsrekke lød som følger: "What is your name, madam? Where are you from, madam? What caste are you, madam?"…
På bussen fra Goa til Hampi, snek en mann med ett ben seg inn bakdøren mens vi stod parkert i veikanten for en kort røykepause. Han forsvant inn under et sete og nektet å komme ut igjen da bussjåføren oppdaget han. Resultatet ble at fem menn slo han maktesløs, slet krykkene ut av de svake hendene hans og slepte han ut etter det ene benet han hadde…
På vei fra Jaisalmer til Bikaner, ble jeg sittende ved siden av en høyreist, bredskuldret og hvitkledd mann. Det var tydelig at han kom fra penger. Et par timer ut i bussturen, besvimte en av de ansatte og falt overende i midtgangen. Jeg spratt instinktivt opp fra setet mitt, grep vannflasken min og lente meg over sidemannen. "Give the man some water". Før jeg hadde fullført setningen, ble jeg dyttet tilbake på plassen min. "Relax madam, he is not a passenger, simply an employee on this bus. Not to worry, he is probably drunk". Sinnet fór opp i meg og farget synet mitt ildrødt. Jeg snudde meg mot han, bet tennene sammen og sa "with all due respect sir, I do not care whether this man is a passenger, unemployed or employed, a homeless person or the king himself – he needs water!" Mannen så like sjokkert som forbannet ut, men han sa ingenting. I stedet snudde han seg med hevet hode og satt i demonstrativ stillhet resten av reisen…
Disse tre eksemplene til ettertanke.
Reiserute: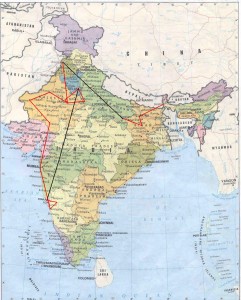 *flystrekningene er merket med sort
Deprecated: Function get_magic_quotes_gpc() is deprecated in /customers/4/a/b/siviwonder.com/httpd.www/wp-includes/formatting.php on line 4382